About Us
Guangzhou Bollair Outrdoor Product Co.,Ltd. is an enterprise with over years of worldwide growth,and as the recognized leader in design and manufacturing of heavy duty,qualified inflatables we have focused on creative products, industry innovations and business model enhancement to strive our best to provide the highest quality and latest products to our valued clients.
Our ability to provide one stop solution to clients' needs is our advantage.From overall design,manufacturer,testing,shipment and guidance work services.
Well-equipped workshop and showroom,the wonderful inflatable products we majorly supply:
1. Inflatable Games,like as bouncy castles,dry and wet slides,combos,obstacles,sport games,tunnels and more, material is 0.55mm 18oz PVC tarpaulin from Plato, comply with the newest European standard (EN14960), US and Australia Standard.
2. Advertising Inflatables,such as Arch,Movie screen,Balloons in sky,Inflatable models,etc.Customized is welcome!
3. Sealed Inflatables,such as soccer bubbles,zorb ball, water walking ball,water sports games, airflow water games, inflatable boat and other sealed promotional inflatables. Material is 0.6-0.9mm or 22oz ~28oz PVC tarpaulin from Plato,perfect for sealed inflatables.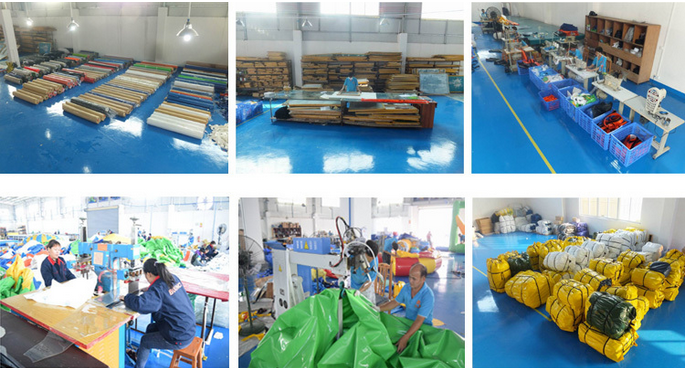 We welcome event plan companies,corporate and private owners,hotel and resort operators,government agencies etc. to collaborate with us to promote business.We will provide the best consultation and advice accordingly.
Our Goal
To create the highest quality, most entertaining and secured inflatables products.
Our Mission
Popularizing inflatable product to all over the world.To bring fun and excitement to children, young adults and everyone young at heart by providing affordable,high quality equipment delivered and set up on time with safety as our number one priority!
Our Values
Win-Win Strategy We value each and every customer. Assisting our clients to achieve their goal is our duty.
Creativity
Being creative is where our strength lies.
Environment Friendly
Energy saving,water saving and effective land or resources usage is what we focus on.Being eco-friendly is not simply a motto but a standard practice in our productions, operations and services.
Security
Maximum product safety and operation management.
Our Team
Integrity– Being honest and serve with sincerity.
Efficiency&Quality – Highest quality, best creativity and effective servicing.
Team Work – Sincere collaboration among team members to bring out the best solution.